Save A Dog Today Sanctuary

Our Sponsor Program
GOOD SAMARITAN

$150.00
one time
​
To help with the initial cost of taking a new dog into the program. A one time donation to cover the cost spaying or neutering, HW test, microchip, vaccinations, etc.

GOD PARENT

$45.00
a month or one time
​
To cover the monthly care of a rescue dog. Food, toys, parasite management, etc. A monthly donation until your protégé is placed.

GUARDIAN ANGEL

$150.00
+ $45.00
a month or once
​
To sponsor the full care of a rescue dog in need. An initial donation for basic care and a monthly donation for maintenance.


The "Sponsor A Dog" programs have made a world of difference for our rescue dogs. Even if you cant adopt, you can still save a life....

Our sponsor programs allow us to buy good quality food for the dogs in our care, to spare no expense for parasite management, to assure essential medical needs, to buy crates, extra toys, treats, supplies, etc. Without it, we would not be able to help as many dogs.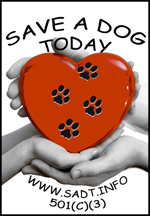 Brake down of costs for one dog from beginning to adoption

Getting the dog from a shelter/home gas costs from $30 and up drive to foster extra cost
Spay or neuter $90-$150
Rabies shot $18-$35 (plus a $50 office call )
HW test $30-$45
Booster shot $10$-$25
Flea prevention​​​​​ $30 plus
HW prevention $20 plus
food for one month $50 and up
treats for one month $30 and up
Toys $30 and up


Give or take on any of the above




unless we have sponsors or donations we will not be able to take on dogs​​​​​​


If you cannot foster please donate

​​​
You can use our secure paypal link or contact us for an address
we can take re-occuring donations via paypal which you can set up to draft on the same day each month​